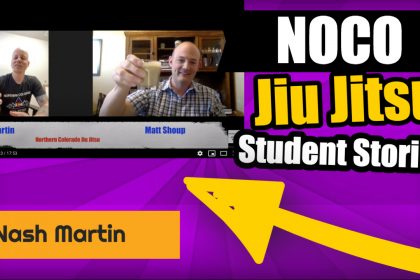 Welcome to Episode 3 of Northern Colorado Jiu Jitsu Student Stories.Watch as Instructor Matt Shoup, "zooms" in to speak with Nash Martin, a NOCO Jiu Jitsu student and professional chef. Nash Martin who lives in Windsor, Colorado details his journey from a jiu jitsu white belt to a jiu jitsu blue belt.
Nash has transformed his life over the last two years physically, emotionally and mentally through jiu jitsu and we can't wait to share his story with you! In this episode Nash and Matt chat about:
What advice he would give to beginning jiu jitsu students along their journey.
He also illustrates real life scenarios where jiu jitsu has de-escalated a situation that could have gotten worse quickly (with a move known as the "Saturday Night Choke"). Nash details an experience where he was forced to execute a rear naked choke on a violent aggressor under the influence.
Nash and Matt had lots of fun drinking red bull and Spanish coffee while they discussed jiu jitsu, life and choking out your inner demons.
For more information on Northern Colorado Jiu Jitsu, visit:
https://www.facebook.com/nocojiujitsu/