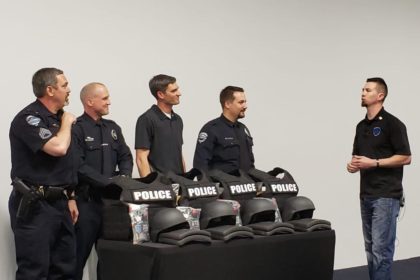 Northern Colorado Jiu Jitsu Academy opened for business this week. Last week we hosted an open house where Loveland community members stopped by to tour our jiu jitsu academy. At the end of the open house, we presented four Loveland Police Department officers rifle rated vests and armor packages through the non profit Shield616.
We were humbled and honored by the number of people that stopped by to show their support of our men and women in blue, as well as tour our academy. Thank you Loveland for your outpouring of support and encouragement not only towards our business, but more so to our Loveland Police officers.
Click on the video below to watch Fox31 KDVR Denver and Deborah Takahara's coverage of our event and support of the LPD through Shield616
View photographs from the event here.