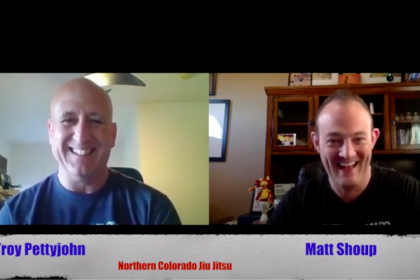 Welcome to Episode 1 of Northern Colorado Jiu Jitsu Student Stories. In this episode, Troy Pettyjohn and Matt Shoup share their story of meeting each other through training jiu jitsu, and their journeys leading up to that point. Troy and Matt both grew up being bullied, and each found martial arts as a form of self defense and confidence building.
Troy and Matt discuss their perspective on both learning and teaching jiu jitsu as well as the vision and purpose of Northern Colorado Jiu Jitsu. They both share practical advice for students just getting started on their jiu jitsu journey, as well as how to stay healthy and injury free as one continues on this lifetime journey.
One of the most important thing Northern Colorado Jiu Jitsu focuses on is building a kind, welcoming and ego free culture and training environment.